Welcome to the Parkwood PTA Website!
Our mission is to build a community at Parkwood between our teachers, parents and students by respecting our diverse student body and creating and contributing to programs that enhance our students' learning experience.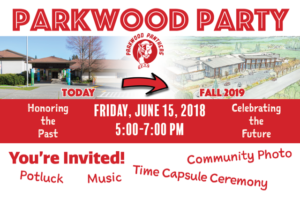 The Parkwood PTA makes grants to every classroom, offers enrichment program scholarships, and funds numerous other needs throughout the year.
The PTA's ongoing programs include:
Quarterly newsletter and social media updates
Enrichment Programs
Cut N' Chat
Monthly Grounds Clean-up
Monday Morning Coffee
Watch D.O.G.S (Dads of Great Students)
Safety Kit Creation
The PTA also funds special events like the Back-to-School BBQ, Tea & Tissues, Heritage Classes and Heritage Night, the talent Show, and a school dance.
All of these activities are made possible by the generous support from our community through donations from PTA fundraisers such as our "Invest in Parkwood" Fall Giving Campaign, Community Garage Sale, Auction, eScrip and Box Tops for Education. Our Invest in Parkwood Campaign is happening now, please consider donating today!
And none of this would be possible without our fantastic volunteers! The PTA holds regular monthly meetings on the first Thursday of every month from 7:00-9:00pm in the school library and are open to all members of the Parkwood community. If you have a special interest we can also get you in contact with the appropriate PTA representative. Please click here to see a full list of Parkwood PTA's programs and events.
Please join the Parkwood PTA today! Online registration is available.
You can also email any of our board members or committee chairs directly with questions, comments or ideas. We are always looking for more helping hands!
Parkwood PTA Chairs for the 2017-2018 school year:
PTA Board

President
Christina Torres
Vice-President
Michelle Morgan
Vice-President
Kari Thomas
Treasurer
Open
Secretary
Julie Dragin/Stephanie Gwaltney

Non-Elected Representatives

Classroom Communities
Betty Mai
Communications
Kari Thomas
Enrichment
Debbie Olhoeft
Family Activities Coord.
(OPEN POSITION)
Fundraising
Mara Calhoun
Health & Safety
(OPEN POSITION)
Legislation
Jennifer Cohen
Membership
Brenda Brock
Teacher Representative
Mary Thomas

Additional Committees

Auction
Kari Thomas
Back to School BBQ
Che Martinez
Box Tops/Soup Label
Sharleen Lambard
Cultural Game Night
Bridgette Shima
Cut and Chat
(OPEN POSITION)
Food Drive
Katie Toth
Girls on the Run
Kelly Mudaliar
Golden Acorn
Michelle Morgan
Green Team
Kathy Carter
Grounds Clean-up
(OPEN POSITION)
Lost & Found
Jill Clymer
Neighborhood Liason
Michelle Morgan/Mara Calhoun
Reflections
Meredith Bane
Student Directory
Marion Mohrlok
You have not entered an email address for this shortcode.
Summer Play Dates
Michelle Morgan
Talent Show

Kathy Carter

Volunteer Coordinator

Bridgette Shima

Watch D.O.G.S.

Che Martinez

Webmaster

Candace Hayward-Hoke

Yearbook
Michelle Morgan/Amparo Squaglia