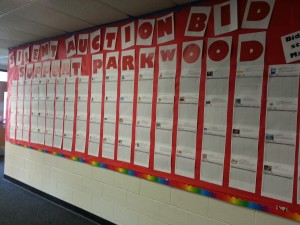 Thank you for a successful Silent Auction this year. We raised over $8000!
About the Auction
We encourage all families to participate in some way. Our team works hard to procure items, events and experiences to auction off. Below are some ideas on how you can contribute. If you have donations to contribute, please print the Auction Procurement Form and return it to the PTA box in the office.
Personal Experiences – these are always very popular. Perhaps you could host a dinner or a BBQ. Maybe you could offer a music lesson, art lesson or cooking lesson. Perhaps you have memberships to local attractions, a boat for a day of fishing, or a cabin to loan for the weekend. Have fun, be creative and add value to our auction efforts all at the same time.
Local Business Donations – if you own a business or have business connections in the community, donated goods or services are valuable auction items that are tax deductible as well.
Basket Donations – you can help by donating items for our annual basket raffle. Tickets will be sold for $1 the week of the auction and winners will be announced the night of the auction. If you need some inspiration check out our basket raffle page.
About the Talent Show
After the silent auction, we will be entertained by our talented Parkwood students! This is a fantastic event for everyone. To perform in the talent show our students must audition and attend a rehearsal. They are welcome to perform solo or in a group. Performances can include (but are not limited to) singing, dancing, comedy, and magic tricks. Fun for the whole family!