Parkwood PTA Board Meeting
Attendees: Michelle Morgan (president), Debbie Olhoeft, Bridgette Shima, Christina Torres, Heather Brown, Mea Fischellis, Mary Ann Thomas, Kathy Carter
Minutes –
Motion to approve October and November minutes
Debbie Motioned
Mea 2nd
Vote – all approved
Budget –
Motion to approve the November budget with discrepancies – Mea and October Budget
2nd  – Debbie
Vote – all in favor
Final count for donations – $18, 565 (two potential matches from employers)
Opportunity for questions about specific receipts on 6th grade camp, parent volunteers for after school opportunities
Off by $19 for the ASE
Fall fund drive off by $100
Afterschool Enrichment –
The PTA has put out an all call for a replacement for Debbie for starting in the spring quarter – to transition and take over for next school year.  Mea suggested that the replacement start transitioning and attending the Board meetings, setting up vendor contracts and other like activities to see if they are truly interested in the position.
Board Discussion about potential replacements for someone in charge of after school classes.
Fall Dance –
Our fall dance was a huge success!!  The dance made $500 beyond the budget. The bake sale was very successful. There were lots of opportunities for families to participate in different activities.
Bake Sale – there was some confusion about the tickets and how to ensure there is equity for all families. Some of the families tried to use tickets – next year one suggestion is to only use tickets.
In appropriate Behavior – some students were being aggressive and rowdy. In the gym there was not  enough supervision. Continued discussion about supervision of kids on campus after hours of school. An idea was to ask the Watch Dogs to volunteer and supervise.
Injuries – suggestion, PTA should have an injury report form so if anyone gets hurt during an event this can be properly documented.
Heritage Night – January 25th –
Food is taken care of, getting dancers lined up.
Discussion about the table and chair configuration.
Two classes – Italy – 11th
South Korea – 18th
Book Fair
April 25th De Del Nino will be linked. The librarians will need some support from the PTA to run the cash registers. There will be an evening event and an opportunity for Ann Torres to dress up and get additional funds for the school.
Bond Approval and Discussion –
Bond is coming out February 14th – Michelle read over a Resolution of Support for the 2017 Bond President and Co-President signed Parkwood PTA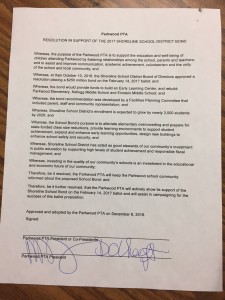 Yard signs available to show support of the Bond – put them up around winter break!!
Sign Waving Event – week of January 9th – the district will be looking for volunteers to show support by standing and waving signs. Sign up information coming soon!
Buttons and fund envelopes distributed.
McCleary Discussion – meeting last night at the Shoreline Center – speaker, attorney who has been involved. Started in 1978. Need to fully fund education.  Discussion and handout by Debbie. PTA needs talking points for families and the community.
School Play
Stay Tuned – the PTA will soon announce a school play!